Main Index / Audio Visual / Earphones / Huawei
Currys
HUAWEI Freebuds 4 Wireless Noise-Cancelling Earphones & Band 6 Bundle - Silver & Black
£188.99
Read Full Specifications Read Reviews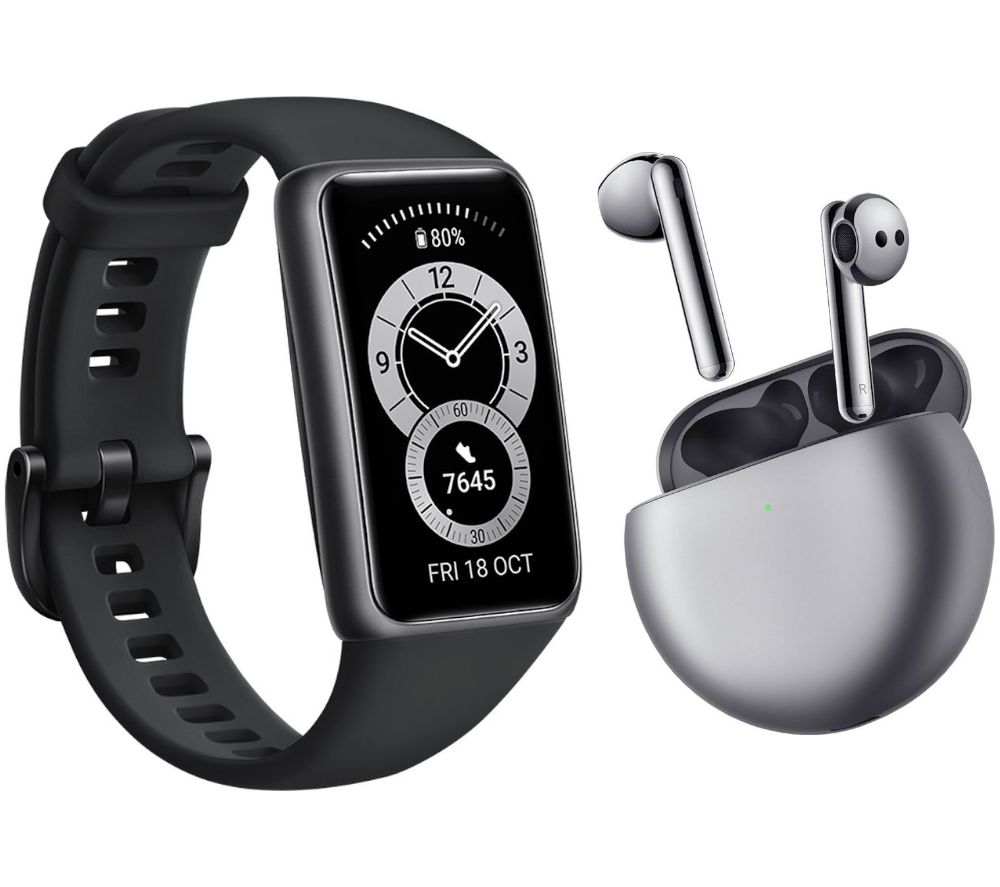 £188.99
Read Full Specifications Read Reviews
Listen to your music while keeping track of your fitness goals with the Huawei Freebuds 4 Wireless Noise-Cancelling Earphones & Band 6 Bundle.
Huawei Freebuds 4 Wireless Bluetooth Noise-Cancelling Earphones - Silver Take your music everywhere with the Huawei Freebuds 4 Wireless Bluetooth Noise-Cancelling Earphones.
Thanks to their ergonomic and lightweight design they'll fit comfortably in your ears.
They also come in a circular charging case that fits in the palm of your hand.
Its compact size makes it easy to slip into your pocket, so you'll always have your Freebuds 4 with you.
The open-fit design of the Freebuds 4 allows for air pressure to be equalised.
This ear-matching technology adds some extra power to the noise cancellation effect.
Important environment sounds will still be heard though, so you can listen-out for cars while you enjoy music on your morning run.
Each earbud features a large dynamic driver that enhances the sound quality of your favourite tunes.
They also up the bass of the music you're listening to, so that you can enjoy your music the way the artists truly intended.
Huawei Band 6 - Graphite Black, Universal Make the most of your workouts with the Huawei Band 6.
In addition to tracking your everyday activity, there are 96 Workout Modes for more accurate fitness data that's presented in easy-to-read graphs.
Keep track of your personal health by monitoring your Sp02, heart rate, stress, menstrual cycle and sleep.
It can also help you to manage possible health issues.
Stay connected, even if your phone is in your bag or pocket and get notifications from your phone for calls, messages and apps.
Control your music while you're on the move and activate your phone camera remotely for easy group shots.
See stats and notifications at a glance on the customisable 1.47inch colour display.
Switch it up and download different watch faces from the Huawei Face Store.

Currys
HUAWEI Freebuds 4 Wireless Noise-Cancelling Earphones & Band 6 Bundle - Silver & Black
Leave a Review
Currys - HUAWEI Freebuds 4 Wireless Noise-Cancelling Earphones & Band 6 Bundle - Silver & Black
Currys - HUAWEI Freebuds 4 Wireless Noise-Cancelling Earphones & Band 6 Bundle - Silver & Black