Main Index / Audio Visual / HiFi Systems / LG
Currys
LG CJ45 Bluetooth Megasound Party Hi-Fi System - Black
£179
Read Full Specifications Read Reviews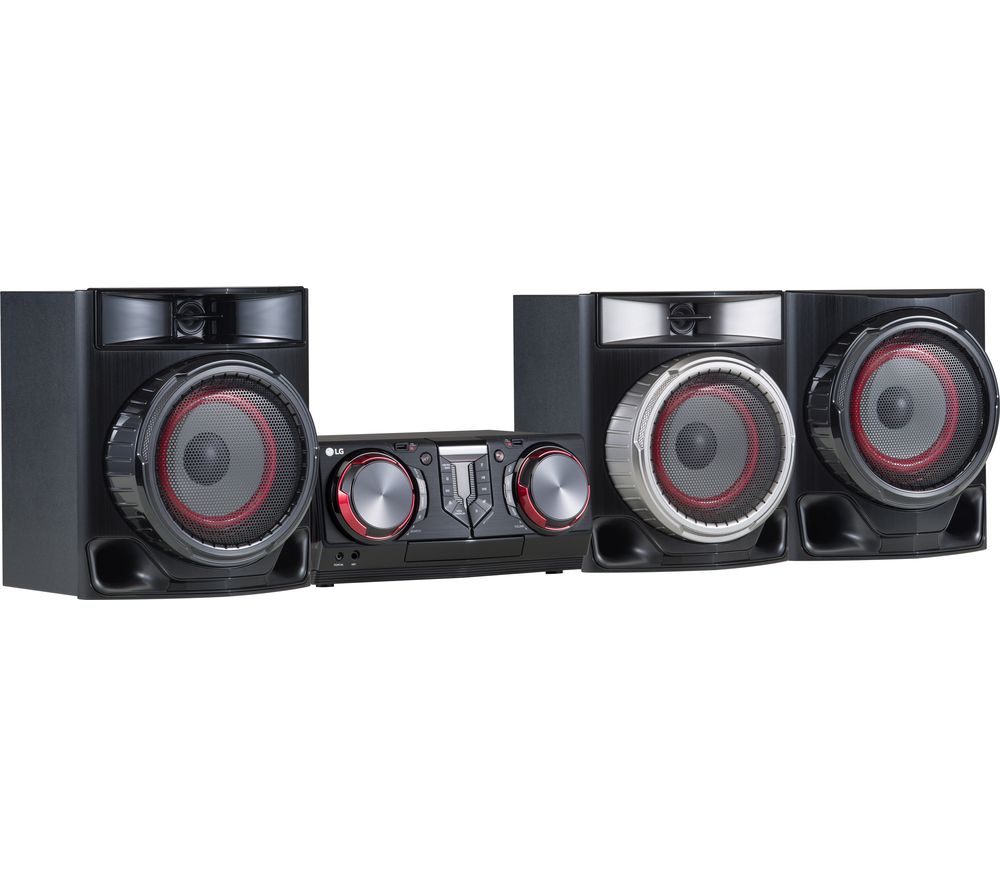 £179
Read Full Specifications Read Reviews
Top features: - Powerful system leaves no area of the party sounding flat - Auto DJ transitions smoothly between tunes, keeping the music flowing - Karaoke mode lets you try your hand at being lead singer - Connect to your smartphone to play music directly and manage playlists Powerful system Enjoy powerful audio that never fails to get the party started with the LG CJ45 Bluetooth Megasound Party Hi-Fi System.
With a huge 720 Watts of power, there isn't a corner of the room that can't be reached by the full, thumping sound of the LG CJ45.
LG's robust LOUDR design means the speakers look just as great as your music sounds, and have the durability needed to get through a great party from start to finish.
A large subwoofer completes the Hi-Fi system, delivering a punch that adds greater depth to the tracks you love.
Your party guests won't just hear the music, they'll feel it too.
Auto DJDon't let those two second gaps between songs become awkward silences.
The Party Accelerator controller lets you take the helm and hone your DJ skills, transitioning from one tune to the next with a host of effects.
And with a connected USB stick, you won't have to man the DJ booth all night.
The LG CJ45 will automatically mix your playlist, keeping the music playing smoothly and avoiding the dreaded lull.
Karaoke mode Think you can sing it better than the original? With the press of a button you can move the vocal track from almost any tune, as well as adjust the pitch to suit your vocal range.
Welcome to karaoke mode! Plug your microphone (sold separately) into the front of the system and start serenading.
You're free to get creative with the music you love, too.
Amongst a bunch of cool effects on the controller, there's a loop initiator, helping you build the excitement before the drop, and a button that lets you create samples to use on the fly.
Get creative with your favourite songs.
Connect to your smartphone Not everyone likes being tethered to the sound system for the whole party.
That's why the LG CJ45 Hi-Fi System is compatible with the LG Bluetooth Remote app.
Manage your playlist from the other side of your room using your smartphone, even adding requests on the go.
The LG CJ45 will connect with up to three devices at once, so pick your two mates with the most reliable music taste and make your party the one they keep talking about.

Currys
LG CJ45 Bluetooth Megasound Party Hi-Fi System - Black
Leave a Review
Currys - LG CJ45 Bluetooth Megasound Party Hi-Fi System - Black
Currys - LG CJ45 Bluetooth Megasound Party Hi-Fi System - Black