Main Index / Audio Visual / Projectors / Nebula
Currys
NEBULA Mars II Pro Smart HD Ready Portable Projector
£429
Read Full Specifications Read Reviews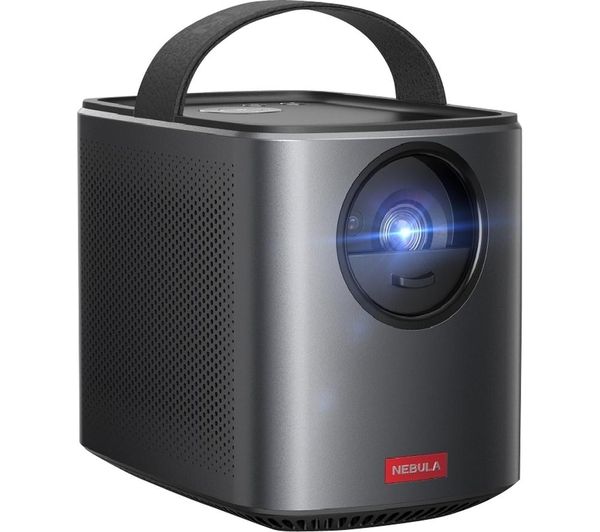 £429
Read Full Specifications Read Reviews
Portable design The Nebula Mars 2 Pro Smart HD Ready Projector has a compact and lightweight design, so it can easily go with you on your outdoor adventures and camping trips.
It even has a built-in handle, so you can carry it wherever you need it.
It has built in great quality speakers, and three hours of battery life, so you can play your favourite films all the way through without needing external speakers or a power cable.
This projector builds on the success of the Nebula Mars 2, but compared to this basic model, it offers increased brightness of projector lamp and improved contrast.
Wireless connection The Nebula Mars 2 Pro has an Android 7.1 operating system built in, so you can stream shows straight from YouTube, BBC iPlayer, ITV Hub and more.
Or connect wirelessly to your smartphone through Bluetooth or WiFi, to show off your latest photos and videos.
Don't worry if you don't have access to WiFi though - the Mars 2 Pro has a handy HDMI port, so you can connect to your laptop or desktop to play DVDs or shows you've already downloaded.
The HDMI port also lets you attach your Xbox or Playstation to the Mars 2 Pro, so you can have epic FIFA tournaments on a 150inch screen.
Single-second autofocus The Nebula Mars 2 Pro is also ideal in the office, so you can present in pretty much any space.
Find a white wall and let it take care of the rest.
You won't need to worry about focus or finding the perfect angle either - the projector will automatically adjust to a clear image in just one second.
Don't forget your accessories Get your Mini Projector set up in no time with a tripod, which is perfect for ensuring your projector is supported and sturdy throughout the film.
And when you're screening outside, a power bank is ideal for staying powered up.

Currys
NEBULA Mars II Pro Smart HD Ready Portable Projector
Leave a Review
Currys - NEBULA Mars II Pro Smart HD Ready Portable Projector
Currys - NEBULA Mars II Pro Smart HD Ready Portable Projector