Main Index / Audio Visual / Remote Controls / One For All
Currys
ONE FOR ALL URC7955 Smart 5 Universal Remote Control
£22.99
Read Full Specifications Read Reviews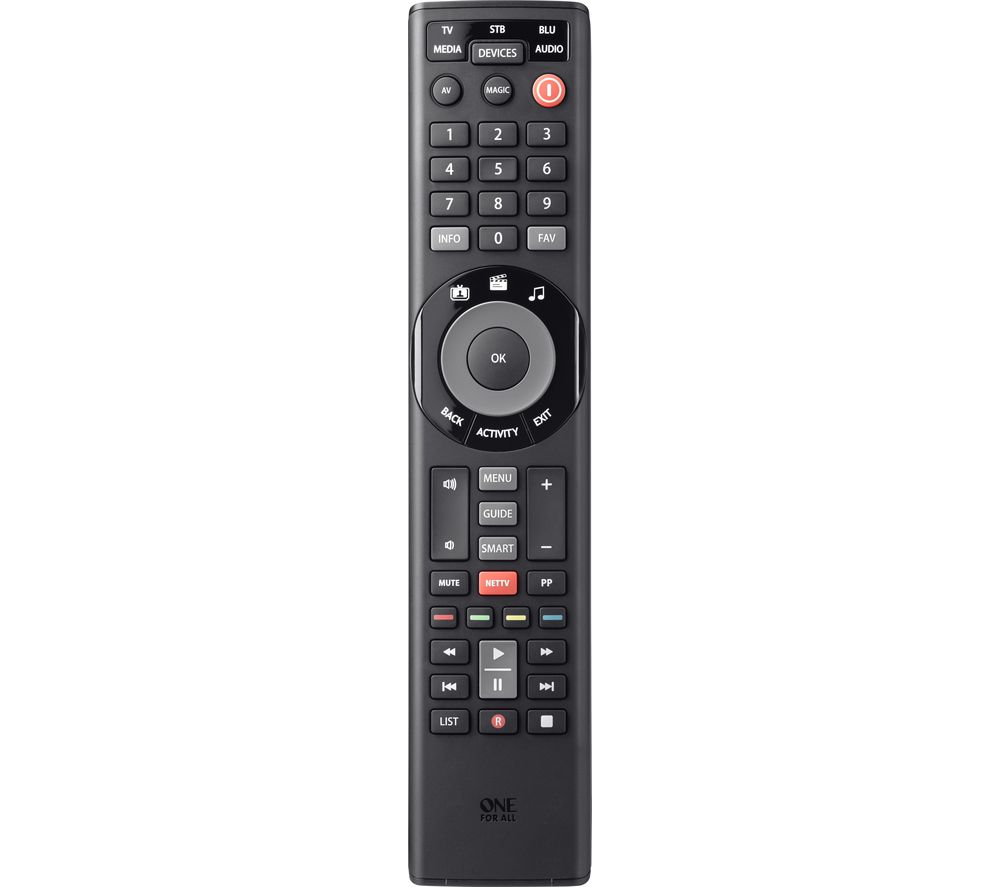 £22.99
Read Full Specifications Read Reviews
Top features: - One remote to control five devices means less clutter- Straightforward control and easy setup - NETTV button lets you instantly access Netflix and all other streaming apps- Smart Activities offer seamless control of your devices without changing between device typesOne remote to control five devices Control up to five of your media devices without hunting around for multiple controls with the One for All URC7955 Smart 5 Universal Remote Control.
The URC7955 works with all brands of TVs, set top boxes.
Blu-ray players, media players, IR game consoles, and audio devices, allowing you to replace your remotes with one.
Straightforward controlSetup is simple with the help of the free Setup app, which lets you get everything connected easily from your phone or tablet.
The URC7955 can learn most functions from your original remote which is useful if your remote has some unique functions.
NETTV button From your Apple TV box to your TV, games console and satellite box, it's easier than ever to control your favourite devices.
Using the NETTV button, you can jump straight to the smart applications of your TV and catch up with Netflix, Amazon Prime, YouTube, or any other online streaming app.
Smart ActivitiesThree pre-programmed activities offer seamless control over your devices, whether you are watching TV, watching a movie, or listening to music.
For example, in Watch TV mode the volume buttons would control the TV, but the channel buttons would control the set top box.

Currys
ONE FOR ALL URC7955 Smart 5 Universal Remote Control
Leave a Review
Currys - ONE FOR ALL URC7955 Smart 5 Universal Remote Control
Currys - ONE FOR ALL URC7955 Smart 5 Universal Remote Control