Main Index / Audio Visual / Speakers For TV / Samsung
Currys
SAMSUNG HW-Q600A/XU 3.1.2 Wireless Sound Bar with Dolby Atmos & Wireless Rear Speaker Kit Bundle
£623.50
Read Full Specifications Read Reviews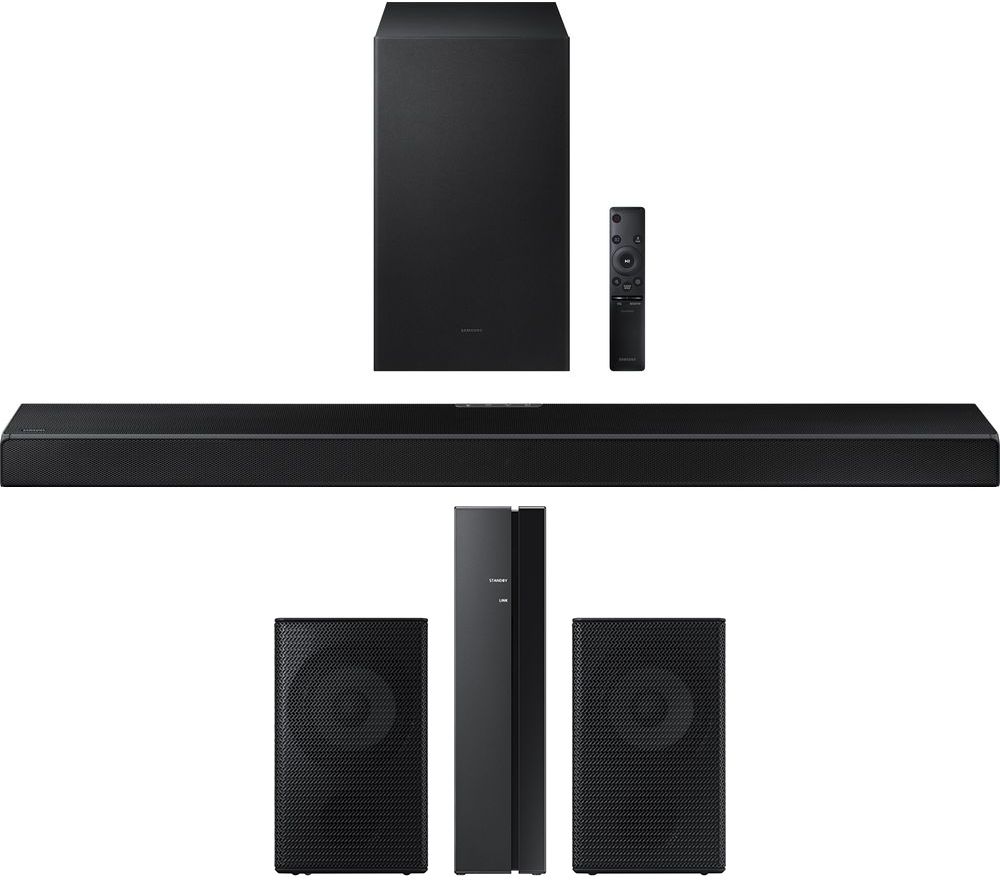 £623.50
Read Full Specifications Read Reviews
Bring home great sound with the HW-Q600A/XU 3.1.2 Wireless Sound Bar with Dolby Atmos & Wireless Rear Speaker Kit Bundle.
Samsung HW-Q600A/XU 3.1.2 Wireless Sound Bar with Dolby AtmosComplete your home cinema setup with the Samsung HW-Q600A/XU 3.1.2 Wireless Sound Bar, featuring 9 speakers that deliver incredible 3.1.2 sound quality.
Immerse yourself in your favourite TV shows and movies with the 3D sound experience of Dolby Atmos and DTS:X.
Featuring Samsung Acoustic Beam technology, the HW-Q600A/XU creates a panoramic soundscape in your living room.
The upwards-projecting audio is delivered from the top of the sound bar, adding an extra dimension to this incredible sound experience.
Smart sound trajectories will make it seem like the sound it's coming straight from the action on screen.
Everything you watch will have incredible sound thanks to the HW-Q600A/XU's adaptive sound feature.
This adapts the sound to the content you watch, so you can enjoy a peaceful period drama or a dramatic action movie just as the director intended.
Turning the volume down automatically enhances voice clarity, so you can still enjoy the shows you love even when it's late at night.
For improved gaming performance, there's also the Game Mode Pro.
Specifically designed for gamers in mind, this profile automatically enhances the audio for a more immersive gaming experience.
Why choose between the audio from your TV or sound bar when they can work together? If you've got a compatible Samsung TV, Q Symphony lets you wirelessly sync the HW-Q600A/XU to your TV's speakers.
Having a different remote for every device is a hassle.
Samsung's One Remote connects not just to your sound bar, but to all your other compatible Samsung devices.
That means you can control your sound, TV and set top box all from a single, easy-to-use controller.
Samsung SWA-9100S/XU 2.0 Wireless Rear Speaker KitUpgrade your sound bar setup with the Samsung SWA-9100S/XU 2.0 Wireless Rear Speaker Kit.
This pair of rear surround speakers automatically pairs with selected Samsung sound bars while limiting cable clutter.
This rear speaker kit consists of two speakers and a central unit that connects wirelessly to your sound bar.
This wireless connection means you won't have cables running down the middle of your living room.
And you can also simply mount the speakers on your walls.
Enjoy the advanced 360 degree sound and get drawn in the action on your screen with surround sound comings coming from behind you.
Use the Samsung SmartThings app to adjust the settings of the speakers.
You can change the volume and fine-tune the sound in the equalizer.

Currys
SAMSUNG HW-Q600A/XU 3.1.2 Wireless Sound Bar with Dolby Atmos & Wireless Rear Speaker Kit Bundle
Leave a Review
Currys - SAMSUNG HW-Q600A/XU 3.1.2 Wireless Sound Bar with Dolby Atmos & Wireless Rear Speaker Kit Bundle
Currys - SAMSUNG HW-Q600A/XU 3.1.2 Wireless Sound Bar with Dolby Atmos & Wireless Rear Speaker Kit Bundle